Gearing up for our first exhibition!
Posted by Showerpart Ltd on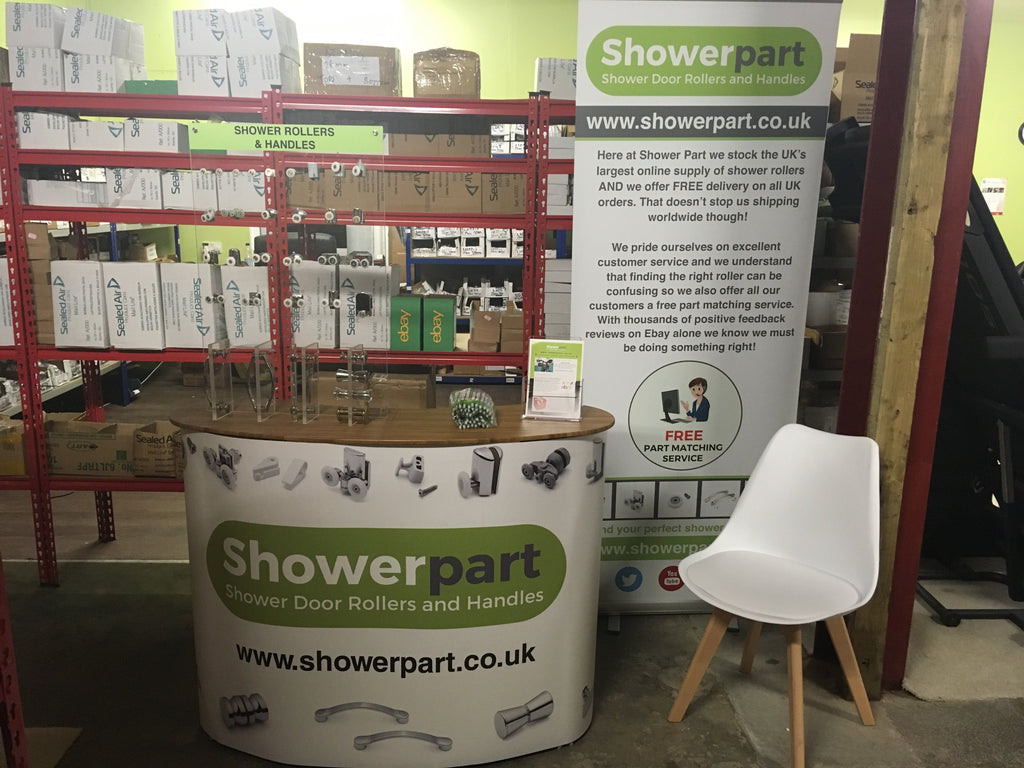 We are super excited to be exhibiting for the first time at Expo West Cornwall between the 6th and 8th March. The show specialises in current trends in the food, drink and hospitality business throughout the South West. We're looking forward to showing off our shower part range of rollers, wheels, handles and knobs (and maybe the occasional hook and guide) to Hoteliers, Maintenance Managers and local businesses alike. We have sourced our display and advertising materials from Cornish businesses to show our support including an exhibition desk from Cornwall Signs and a roll up banner designed by Medlin Design. 
Pop in and see us at the show and say hello - we are at stand H33. New and existing customers can pick up our special promotions pack which includes handy cleaning accessories and measuring tools. 
As we look to grow the trade aspect of our business if you are a Plumber, Maintenance Manager or Bathroom Shop or you just need to buy a lot of shower parts (whether it is a one off or regular orders) please do get in touch at trade@showerpart.co.uk. In addition, from March we are introducing a dedicated phone number for trade orders only (please email us first to get this) - this is so our sales team can arrange local appointments to visit Cornish businesses to help establish relationships and ensure we continue to offer the right shower parts and keep our personalised and very much valued part matching service (but in the flesh). Ultimately we want to keep businesses rolling and all their showers in order! For bulk orders outside of Cornwall we can offer generous discounts, a quick ordering service via the dedicated trade email address / phone line as well as same day dispatch (orders before 2pm).
For all personal customers - we still love you so please continue to order via our easy to navigate website and use our part matching service if you need further assistance. Don't forget to sign up to our newsletters for the latest news, events and of course special offers.
We'll leave you with a trade testimonial from Richard B and we will update you soon after the event to let you know how we got on!
"I took over as the Maintenance Manager of a Cornish based 5 star ~ 140 unit holiday resort. At that time I did not inherit any stocks of various shower parts to maintain the units to the correct 5 star standard. It was also obvious that the lack of stock had meant that more recent repairs had been far from ideal. I am far from being an expert in shower parts and so I was concerned about how I would meet the challenge of knowing what parts to order to avoid wastage and that the issue was an imminent challenge to maintain the resort reputation. This concern evaporated as soon as I established the link with www.showerpart.co.uk. I have found the team to be perfect partners in every way:
*Expert in their knowledge and advice.
*Amazing in their range of products.
*Very competitive on price.
*Superb in all other aspects of supplier  / customer service – delivery / reliability etc.
 There are still many challenges within the job but I know I have 1 less due to the partnership with  www.showerpart.co.uk."
---
Share this post
---
---
---